"What if there was a question that would clarify your best option for ninety percent of the decisions you make in life—a question that answers just about everything? It would have the potential to foolproof your relationships, marriage, finances, calendar, pace, and health. It would reduce the complexity of your life. It would save you time, money and tears. You would carry around less regret. And best of all, you wouldn't have to apologize nearly as much."- Andy Stanley
In an effort to raise wise children, we have embraced Andy Stanley's best question ever. He wrote a book on it years ago, and is in the middle of a sermon series on it. We have watched and discussed the series with our kids, and it's one that we will revisit several times as they get older. This is a great place to start. To check it out, click on the "ask it" pic below.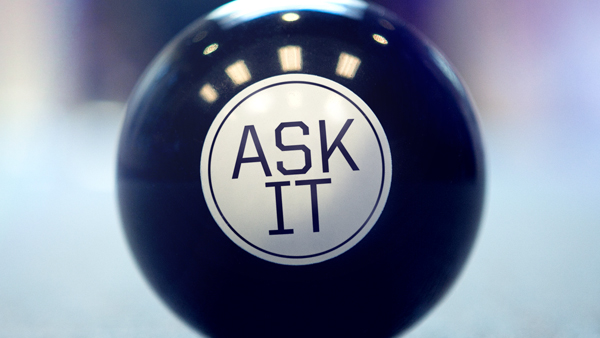 The question to ask is:
What is the wise thing to do?
This month we are specifically focusing on making wise choices with our words.  We want to love on others with our words.  While I don't consider myself a negative person, I know I can always be more positive and loving with not only my words but also my tone. I also know that my sarcasm has been passed down to my kids and it's not so pretty on any of us.
Not only that, but it is just so much easier for me to point out the errors in something or someone than to focus on what is correct and done well. Believe me I wish this were not the case. So, finding appropriate consequences to fit poor behavior and unwise choices was easy. A list of 50 popped out in no time.  It's the positive side of things I need help with, so this month's focus is really good for me as well. (That's also why we added the twist this month that mom and dad will be participating in the consequences too. The kids loved this idea!)
But when it came to the positive reinforcements, I sat stumped at 3. So, I "Googled" it in many different ways. Sadly, I didn't find much.
Thus, if I wanted it, I needed to create it. The list of 25 reinforcements for wise choices was a long process, but a good one to work through. The kids helped with many of the ideas during the process, and it allowed them to get excited about it as well. This list has been placed on small sheets of paper in a jar for them to pull from when they demonstrate wise choices. And, while we are specifically focusing on our words, these were created to be used for any wise choice.
Please feel free to copy, use, change to fit gender, and tweak to fit your own children in any way that you see fit.  My prayer is that it helps not only our home, but yours as well.
Wise choices have been poppin' out of you. Choose the movie for family movie night (and there will be popcorn).
It helps parents out when you make wise choices, so we will help you. We will put your laundry away for you this week.
Wise choices can be difficult to make just like choosing which flavor of ice cream to have and the toppings. Time for a fro-yo or ice-cream date with a parent to practice and celebrate good decisions.
You can serve others with kindness and a good attitude. Let us serve you. Mom/Dad will help you clean your room this week.
Making wise choices pays. You've been rewarded a dollar.
Attitudes are affected by sleep, which can makes it harder to make wise choices. However, you made a wise choice, so you get to stay up 30 min past bedtime on the next non-school night.
Our choices affect others, so let's all have some fun as a family with your choice of game.
Sweet! Your choices have been sweet! Choose a sweet treat.
Choosing to do what's right is often hard just like practicing for a sport. This week your hard work has paid off and you get a ______ practice pass.
Those who make wise choices often have good friends, and what girl doesn't want more time with her friends? Let's schedule a play date.
We rejoice in the girl you are becoming, especially when you make wise choices. You get 30 min with mom or dad doing activity of your choice.
You've been applying what you know about making wise choices. How about a new app/song?
Sometimes making wise choices puts you ahead of the rest. You get "shotgun" for the day (or next if it's evening).
When we make wise choices,  they show how unique we are even more than our clothes. Let's purchase a unique clothing item that will help you celebrate this wise choice.
People look to those who make wise choices for advice or help when they have a decision to make. You may advise mom on what to make for dinner.
Sometimes doing what's right goes unnoticed. We don't do what's right to earn rewards, we do it because God has asked us to. No reward this time.
Making wise choices helps you grow as a person. Choose any activity that will help you grow physically or spiritually. We can go to the park, take a walk, read a bible story together, or any activity that you can think of to fit this.
You nailed it with your wise choices, so let's get your nails done to celebrate.
Making wise choices is often hard, so you might have to get creative. Choose a craft from home (or the store) and get creative.
Wisdom compliments you well. Each family member will give you a hug and a compliment.
Wise choices will help you get to the places you want to go in life. Choose a place to go for a family outing.
Making wise choices will help your life to be less stressful. Time for some relaxation. Choose from a facial, foot soak/scrub, or candle lit/scented bath given by mom.
You've been showing the strength of wisdom. Let's strengthen our relationship with a date night. You may choose mom, dad, or sister.
You don't fool around; you understand how to make wise choices. Continue to make them as you spend an extra 20 min on your Ipod or computer playing a game.
One of the wisest choices a person can make is to love others just as Christ has loved us. Choose a way to show someone how much Jesus loves them this week. Your parents will help you plan, purchase, and make it happen.
Can you think of others to add to the list? I'd love to hear them.